5 Winners of Hosting Account from Zyma
We came to the final moment of the hosting account giveaway which is sponsored by Zyma.com, and yet its winner announcement time.
Zyma.com launched in 2010 is quickly becoming the No.1 choice for web hosting services on the internet. Their multi-award winning web hosting package offers the most attractive and comprehensive features for one the best prices on the internet.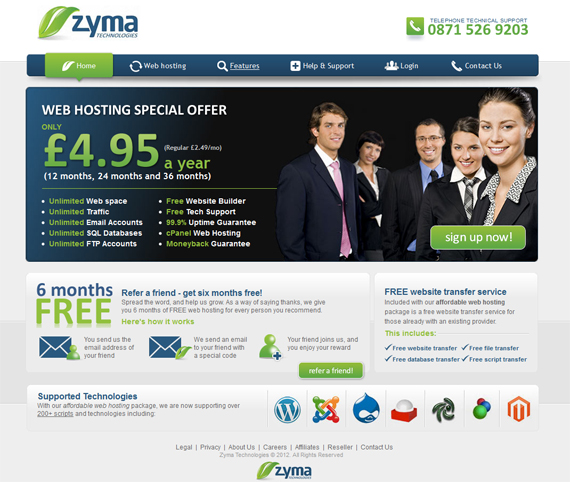 So, here is  the list of people who participated.
Akhil Abraham George – (3)
Antanas Antaso – (5)
Charlie Montemayor – (5)
Clint Andrew – (5)
Coolest Uly Andres – (5)
Dangal Macatangay – (4)
Daniel (5)
Davor Budimir (5)
Davor Budimir Buda – (5)
Gaurav Rajasekar – (1)
Gino – (4)
Iam Herbert – (5)
ian (1)
Isha Singh – (5)
Ivica Ćosić – (2)
Jeffrey Austria – (8)
John Paul Suba – (4)
Mahendra Choudhary – (4)
Mariam Wakili – (4)
Marlon Cureg – (1)
Michael Denson Tulang – (5)
Nick Phillipps – (4)
Septian – (1)
Septian Ahmad – (7)
Vlad Burca – (5)
xom813 – (5)
As you can see, we have top 2 that has an score of 8 and 7 respectively, so congratulations to Jeffrey Austria and Septian Ahmad.
But wait, the prize is five hosting account! So from the list, i took all the entrant that is next to second highest score which is 5 and load them up to a list generator of www.random.org to pick three more winners.
And here it goes.
Congratulations also to Coolest Uly Andres, Daniel and Charlie Montemayor
Winners will be  contacted by a representative of Zyma.com on how you can claim your prize.
Did you enjoyed the giveaway? There is another one running right now where in  you can win custom sticker, and I am sure that there are more to come, subscribe to us now!